Bio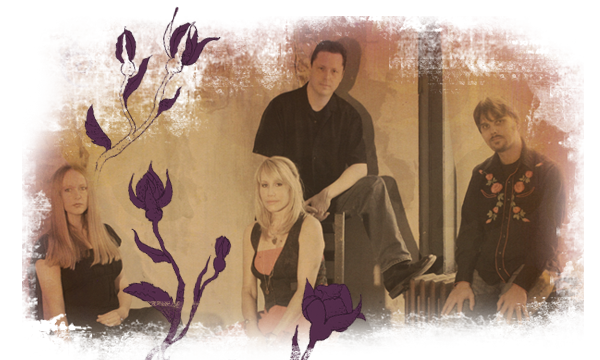 Carolann Ames has been electrifying audiences with her striking vocals and heartfelt songwriting since she launched her career in San Diego in 1994. "After I moved to California, I was lucky enough to meet some of the top musicians in town, including Wayne Nelson from The Little River Band," Ames says. "He co-produced my first two CDs with me and introduced me to a lot of great musicians who helped get me started."
While Ames is a top-notch songwriter, it's her riveting vocal presence that first captivates listeners. Critics have been wracking their brains to come up with new superlatives to lavish upon her, calling her one of the freshest, most original voices on the Americana scene. Her voice may be angelic, but Ames is a down-to-earth, hard-working artist. With her backing band — Steve Peavey on guitar, mandolin, pedal steel, banjo and vocals; Melissa Harley on fiddle; Ken Dow (Brian May and Roger Taylor of Queen, Chris Thompson of Manfred Mann's Earth Band, Jersey Boys on Broadway) on bass and vocals; and drummer Rob Hooper (Guy Forsyth, Caroline Wonderland) — Ames is on the road most of the year. She's built her career the old-fashioned way, one gig at a time.

Ames toured relentlessly to support her last album, the self-produced SO LONG ABILENE, and wanted to challenge herself when it came time to make LAUREL CANYON ROAD. "I usually play songs live for a while, working out parts with the band. This time, we rushed into the studio when we had some time between gigs and recorded them live onto analogue tape. Steve and I had played them on guitar together, but nothing was set, so each band member was able to shine. We let each song take us where it wanted to go."
The songs on LAUREL CANYON ROAD are some of Ames' best, marked by soaring melodies and choruses that stick in your mind after a single listen. "Back to Santa Rosa" blends Celtic fiddling and Texas swing to tell the story of a failed relationship with the insight that only comes after the fact. Ames balances her delivery between regret and nostalgia. A stomping country beat heats up the bluegrass-flavored "Sugar Creek," a song that describes the breathless flush of first love. Peavey's acoustic guitar swirls in and out of Ames' sultry vocal. "Bed of Roses" is a seductive love song with hints of R&B, country and pop with its unforgettable melody and with Dow's melodic, groove bass.
A stomping country beat heats up the bluegrass-flavored "Sugar Creek," a song that describes the breathless flush of first love. Peavey's acoustic guitar swirls in and out of Ames' sultry vocal like a bumblebee looking for hidden nectar. "Bed of Roses" is a seductive love song with hints of R&B, country and pop with its unforgettable melody and Dow's melodic, groove bass. Curtis gives the tune a touch of Southern soul with his Hammond, while Harley's yearning fiddle mimics Ames' aching vocal.
The title track "Laurel Canyon Road" has nothing to do with the famous LA thoroughfare; it's about a similarly named road in North Carolina and is a protest song about strip mining in North Carolina and Kentucky as well as celebrating the beauty and sadness of that area. It features Harley's mournful violin and crying, sustained pedal steel notes.
The set also includes the rockin' "Everybody's Somebody in a Honky Tonk," a tune that puts a new slant on a night out by looking at a night of possible debauchery from a woman's perspective. "Love Remains Unbroken" is a slow shuffle that celebrates the power of love and warns against the hurtful words that are often so easy to say. The album closer, "Blessed is the Love that Abides," is a tour de force for Ames' vocals and acoustic guitar.
LAUREL CANYON ROAD will be released in January 2012, but until then, Ames and the band will remain on the road, doing what they do best. "One of the cool things about our live show is the interaction between us and the audience. We set up in a half-moon shape so we can see each other. To me, a live show is about the audience. We make sure we draw them in and that they have a good time."
Carolann Ames was born in Wyoming, but the family moved to Texas when she was a year old. "My mother was a pianist, and I fell asleep each night listening to her play classical pieces on the piano," Ames says. "My uncle plays every musical instrument imaginable and built a church organ into his house. My grandmother was a music teacher, so I grew up surrounded by music.
"My mother made me take piano from the time I was 6. I think my sense of melody came from hearing her play classical piano, but I disliked being made to practice, or being made to do anything for that matter. When I was a teenager, I taught myself a more modern piano style."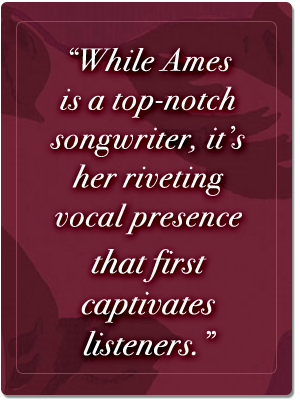 Ames was a "trouble child" in high school and wrote to explore her feelings of alienation. "I wrote poems when I was young and started writing songs on guitar when I was about 15. I was very dramatic and had so many intense emotions that I felt crazy most of the time. Once I figured out that music helped me cope with things, there was no other path. Making up songs comes naturally to me."
Ames spent three and a half years at the University of Oklahoma as a ballet and music major. She eventually made her way to California, where she started singing in a duo in 1994. One night, the bass player needed a sub and asked Nelson, who had just moved to San Diego, to sit in for him. Ames was soon fronting a band with Nelson on bass, David Beldock on guitar and drummer Duncan Moore. "Wayne talked me into recording my first CD, OUT OF THE BLUE, which we co-produced with David Beldock at his house."
Nelson also co-produced 2002's SHAKEDOWN, but by the time Ames made SHADES OF INDIGO in 2005, she was moving towards a more acoustic, Americana sound. (The album included "West Virginia," which won her Grand Prize in the John Lennon Songwriting Contest.) "I grew up listening to rock, but around 2002, I started experimenting with acoustic instruments. I like the interaction you can have with musicians when you're not being blasted off the stage by the volume. I started writing songs based on Celtic, blues and country styles, using odd chords and arrangements that aren't exactly straightforward. My voice coach thinks I was Celtic in a previous life because I seem to have an intuitive grasp of the music."
Her self-produced fourth record, SO LONG ABILENE, was nominated for Best Americana Album in the 2009 LA Music Awards, and the track "Bridgewater Creek" was nominated for Best Americana Single. The song also topped the European Americana charts. SO LONG ABILENE won universal praise for Ames as a vocalist and songwriter and set the stage for LAUREL CANYON ROAD. The album will be self-released by Ames in January 2012. She and her band will be on the road to promote it starting in the spring.